News
June 6, 2022
SEAOSC Recognizes 101 Continental Building and Tower Theatre Flagship Store with Excellence in Structural Engineering Awards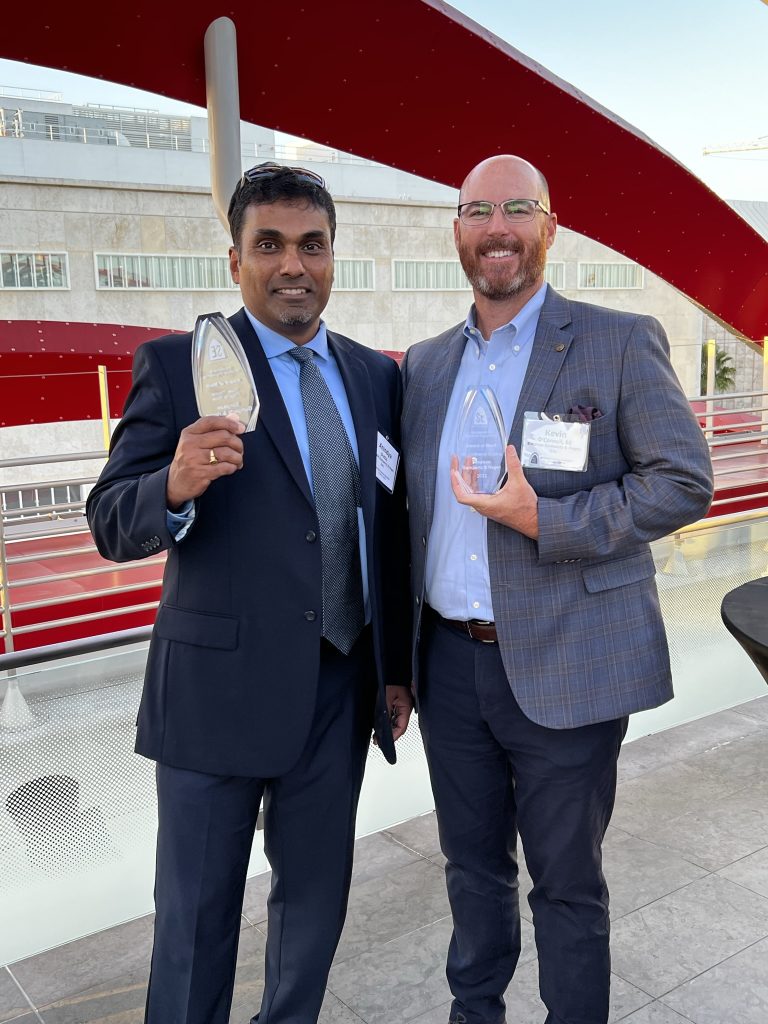 The Structural Engineers Association of Southern California (SEAOSC) recently recognized two Simpson Gumpertz & Heger (SGH) projects with Awards of Merit as part of the organization's 2022 Excellence in Structural Engineering Awards program. The 101 Continental Building project received the award in the Retrofit/Alteration category and the Tower Theatre Flagship Store won in the Historic Preservation category. SEAOSC announced the honors at an awards gala and celebration on 1 June 2022.
Award of Merit: 101 Continental Building
The 101 Continental Building retrofit and alteration project revitalized a cold and outdated structure into a warm and welcoming workspace. Constructed in the early 1970s, the building comprises a fifteen-story, steel-framed office tower supported on a two-level subterranean podium. The 335,000 sq ft pre-Northridge steel moment-frame building was seismically retrofit with fluid viscous dampers following the nonlinear time-history structural analysis procedures in ASCE 41-17, and the first-floor plaza and interior building spaces were renovated and modernized to add amenities and conveniences for building tenants.
"The project vastly improved the seismic performance of the structure and created new, welcoming tenant amenities and conveniences," said SGH Principal Kevin O'Connell. "The result meets state-of-the-art seismic retrofit criteria, assuring a new life for the building for generations to come."
SGH served as structural engineer of the project to evaluate the building, design the seismic retrofit, and provide structural support for the renovation. Also on the team were TA Realty, LLC, and Marshall Property & Development, LLC (ownership), Wolcott Architecture (architect), Taylor Devices (damper manufacturer), and Howard Building Corporation (general contractor).
Award of Merit: Tower Theatre Flagship Store
The Tower Theatre in downtown Los Angeles, designed by S. Charles Lee and constructed in 1927, is a national historic landmark and a Los Angeles Designated Historic-Cultural Monument. The theatre was one of the first of its kind constructed with air conditioning and wired for sound, and was where the first synchronized-sound motion picture was originally screened. Although a brilliant example of the Baroque Revival Style, this monument had fallen into disrepair over the years. The owner worked with the tenant to perform a voluntary seismic upgrade and develop the structure into a flagship store.
"This project successfully preserved an iconic building while transforming the space for its new program and significantly improving its seismic performance," said SGH Associate Principal Anindya Dutta. "I'm proud to be part of a team that was able to overcome so many engineering challenges, which included replacing the sloping first floor and balcony seating area to accommodate a new retail program."
SGH provided structural and seismic engineering services for the project as well as waterproofing and code consulting services. Also on the team were Beverly Real Estate Group (owner), Foster + Partners (design architect), Gruen Associates (architect of record), and Shawmut Design and Construction (general contractor).
View All Events