Webinar
Addressing Falling Snow and Ice Hazards on Building Facades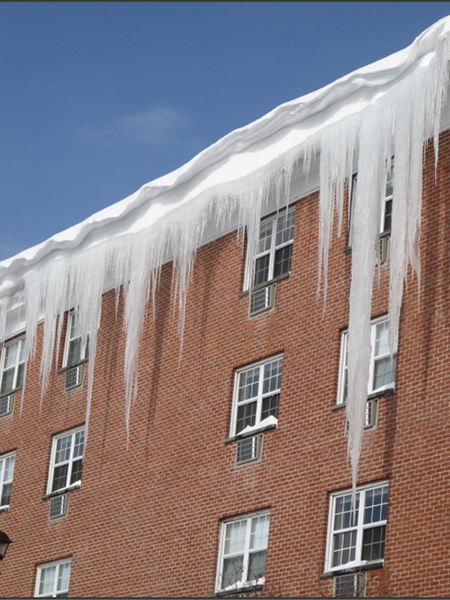 Falling snow and ice from building facades can pose serious safety risks for the public, and can place architects, owners, and engineers in a position vulnerable to litigation. While media coverage of falling snow and ice has intensified in recent years, the industry has little consensus on the best strategies for mitigating the buildup and shedding of these winter hazards. In this webinar, we will evaluate several mechanisms that enable snow and ice to accumulate on and fall from buildings. Using traditional snow retention designs for roofs as an introduction, we will focus on how snow and ice interact with projecting facade elements and discuss how contemporary design trends, improvements in performance, and changes in climate patterns contribute to the problem. We will review the lack of industry guidance for designing and evaluating snow and ice retention systems. And we will discuss case studies—including research and laboratory testing and project-specific mockup testing—and how this work can help inform design strategies to mitigate snow and ice issues on building facades.
LEARNING OBJECTIVES
After attending this webinar, participants will be able to:
Identify potential risks of falling snow and ice from buildings.
Discuss factors that contribute to snow and ice accumulation on and shedding from facade elements.
Understand code requirements and industry standards, or a lack thereof, for addressing and evaluating snow and ice issues on building facades.
Recognize how to mitigate the risk of falling snow and ice in the design of contemporary building facades.
Participants will earn 1.0 AIA CES Learning Unit (LU/HSW) for attending the live webinar. Registration is free. Please note that space is limited – email events@sgh.com to join our waitlist if the session is closed when you register. 
View All Events