News
March 6, 2020
SGH Hosts BeyondAEC Hackathon and Symposium for Digital AEC Community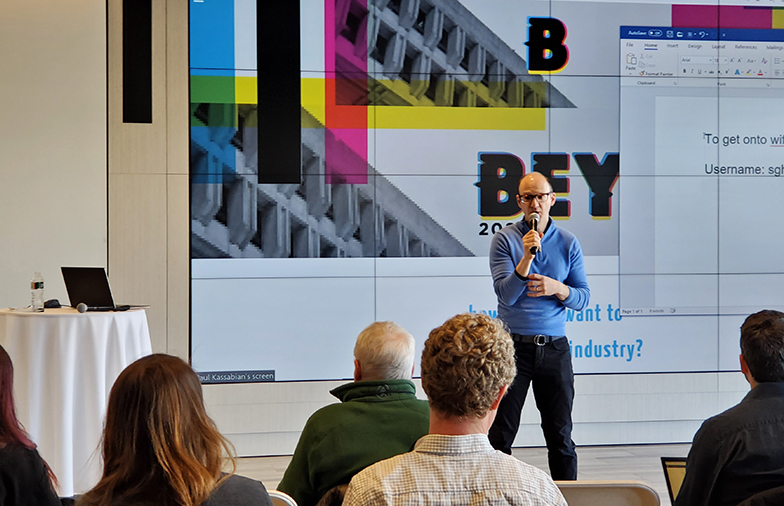 More than 50 visionaries and practitioners from a fast-growing community of digitally minded professionals in the architecture, engineering, and construction (AEC) industry converged over the weekend for the BeyondAEC 2020 symposium and hackathon. Hosted and organized by Simpson Gumpertz & Heger (SGH), the event served as a meeting point for engineers, programmers, coders, developers, students, and others to connect and find ways to innovate within the AEC industry.
"It is exciting to engage in topics that expand beyond design technology to the greater AEC Industry," said BeyondAEC co-founder Kyle Martin, Digital Design Manager at Gensler. "When we created this event in 2017, our hope was to establish a forum for passionate technologists and practitioners to develop solutions to problems not encountered in their everyday work, while simultaneously expanding upon their personal skillsets."
The event started with a symposium featuring three keynote speakers at the cutting edge of the AEC industry:
Elizabeth Christoforetti, Founding Principal of Supernormal, explored finding meaning in data, including using data to understand urban and housing issues
Panagiotis Michalatos, Senior Principal Research Engineer at Autodesk, presented on technology development and representing 3D information in a user-friendly manner
Jesse Devitte, co-founder and General Partner of Building Ventures, gave a discussion on investing in AEC technology startups and important industry trends
Following the symposium, attendees continued with a 24-hour hackathon event where six teams representing a wide range of skills and experiences identified challenges in the AEC industry and developed new and innovative solutions to meet these issues. After working through the night, teams presented their ideas to a panel of industry judges before the event concluded with an awards ceremony and reception.
The winning teams highlighted several novel ideas:
The Judge's Choice Award went to team "Trash Panda," which sought to mitigate construction waste by optimizing materials through multi-objective generative design (learn more)
The Most Impressive Use of Technology Award went to team "solVR," which developed a tool for visualizing solar glare in virtual reality (learn more)
The Most Practical Award went to team "Game Footage," which used Autodesk Revit journal files to better understand user behavior and suggest modeling workflow enhancements (learn more)
"It was exciting to host such an inspiring group of creative and energetic professionals for this installment of BeyondAEC," said Paul Kassabian, SGH Principal. "We were honored to organize this event and encourage collaboration with our peers and colleagues. It is clear that this community of digital designers, engineers, and technology experts are having a big and positive impact on the AEC industry now and will continue to do so into the future."
SGH hosted the event on 28-29 February 2020 at its headquarters in Waltham, MA; previous iterations of BeyondAEC were hosted at Sasaki in Watertown, MA. BeyondAEC was sponsored by Payette and CBT.
Learn more at BeyondAEC.tech.
View All Events