Webinar
Mass Timber Buildings: Sharing Lessons for Coordinating Enclosure Design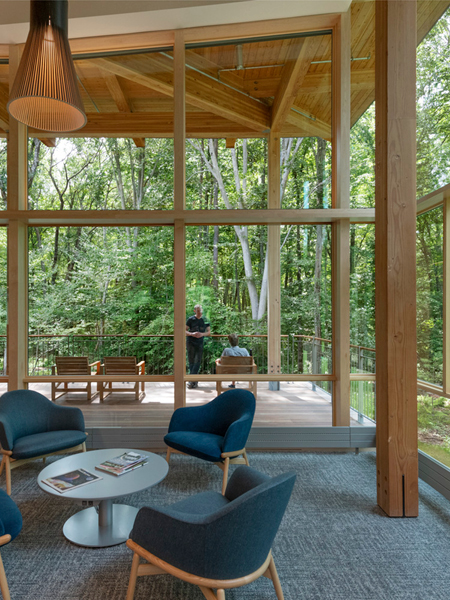 Mass timber is an innovative construction material that has quickly gained popularity across the building industry. Owners and project teams choose this structural material for several reasons, including its speed of construction, sustainability benefits, fire resistance, and aesthetic value. When designing building enclosure systems for these structures, however, project teams need to evaluate coordination, detailing, and construction practices to help realize these sustainability and performance benefits. In this webinar, we will introduce mass timber building products—including glued-laminated timber (glulam) and cross-laminated timber (CLT)—and explore their related benefits for constructability and sustainability. We will also share lessons learned from case-study examples to review fire-rated penetrations; coordination of enclosure, structural, and mechanical design; durability of exterior timber; acoustic considerations; and sequencing of temporary protection.
LEARNING OBJECTIVES
After attending this webinar, participants will be able to:
Understand the benefits of mass timber as a structural material.
Identify how mass timber building enclosure systems differ from traditional projects.
Recognize coordination, detailing, and construction practices to help ensure constructability, performance, and occupant safety.
Discuss lessons learned from mass timber case study examples.
Participants will earn 1.0 AIA CES Learning Unit (LU/HSW) for attending the live webinar. Registration is free. Please note that space is limited – email events@sgh.com to join our waitlist if the session is closed when you register. 
View All Events