News
March 1, 2017
Simpson Gumpertz & Heger Kicks Off Seminar Series in Boston, New York, and San Francisco
The Simpson Gumpertz & Heger (SGH) Boston, New York, and San Francisco offices kicked off their 2017 seminar series on Tuesday, 28 February, with presentations that spanned a range of topics, from flooding and below-grade waterproofing to performance-based fire engineering. These seminars give several opportunities throughout the year for architectural, engineering, and construction professionals and academics to learn about and discuss relevant topics to their industry and communities.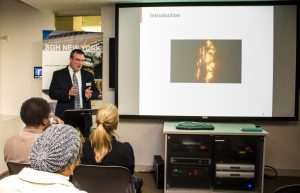 In Boston, Senior Principal Gregory Doelp and Principal Aaron Lewis spoke as part of a four-part series, "Climate Ready? Designing for Extreme Weather," which will run through the spring and explore the issues of designing for climate change at an individual and community level. Their presentation, "Designing for Flooding and Sea Level Rise," introduced how to identify flood risks and design buildings and other infrastructure for flooding.
In New York, Principal David Jacoby presented "Performance-Based Fire Engineering: Tools for Enhanced Design Freedom" in our midtown Manhattan office. In the session, he gave an overview of performance-based fire engineering and discussed how related tools – including fire and smoke models, egress and people movement models, and fire/structure models – can provide design flexibility and potential cost efficiency.
In San Francisco, Senior Principal Kenneth Klein discussed the challenges of below-grade waterproofing in the Bay Area. He presented "Getting It Right the First Time: Below-Grade Waterproofing Design," which outlined the design process for these systems and explored several aspects for architects, owners, developers, and contractors to consider beyond selecting a waterproof membrane.
View All Events