News
March 19, 2018
SGH Projects Win Grand Conceptor and Gold Awards from ACEC of Massachusetts
The American Council of Engineering Companies of Massachusetts (ACEC/MA) honored two Simpson Gumpertz & Heger (SGH) projects at its annual Engineering Excellence Awards gala, including recognizing the firm with its top overall prize. The Bahá'í Temple of South America received ACEC/MA's Grand Conceptor Award as the program's best project. The University of Massachusetts (UMass) Design Building was a Grand Conceptor finalist and received a Gold Award.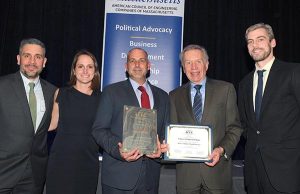 "Each year, we gather to celebrate and recognize engineering firms for projects that demonstrate innovation and excellence," Michael Scipione, ACEC/MA president, said in a letter for the awards gala on 14 March 2018. "Tonight culminates a process that began many months ago … congratulations to all of this year's winners!"
Grand Conceptor Award: Bahá'í Temple of South America
Working with Hariri Pontarini Architects, SGH helped to create this "temple of light" in Santiago, Chile. The temple features nine wing-shaped, translucent petals that meet in a central oculus, allowing visitors to stand in the middle of the space and look up as if gazing through a canopy of trees to the heavens. The petals are clad with an innovative form of cast glass on the exterior surfaces and marble on interior surfaces, which let in the sun during the day and glow serenely in the evening. Located in the foothills of the Andes Mountains, the structure also rests on bearings that protect it from earthquakes in this highly active seismic zone.
"We are thrilled to receive this prestigious honor from ACEC/MA," said SGH Senior Principal Glenn Bell, who accepted the award with SGH Senior Staff Member Graham Cranston. "This project posed several challenges that required collective expertise in structural, enclosure, and materials design. We hope that engineers, worshippers, and tourists can enjoy the beauty and complexity of this structure for generations."
SGH collaborated on a team of several structural designers and was the project's principal enclosure consultant.
Gold Award: UMass Design Building
Located in Amherst, MA, the new Design Building brings the university's Architecture, Landscape Architecture and Regional Planning, and Building and Construction Technology design programs together in a structure that exemplifies a focus on sustainable construction practices. A steel- or concrete-framed structure would be the conventional choice for this building's size and use, but the Design Building features a timber-framed superstructure to maximize renewable materials. The exposed wood structure also emphasizes the system's contribution to the building's design while complementing and influencing its interior and exterior aesthetics.
"We are proud to have played a part in this project, which lets UMass showcase the use of wood products in creative ways," said SGH Senior Principal Greggrey Cohen, who accepted the award alongside SGH Senior Project Manager Jeffrey Langlois and Senior Staff Member Nancy Varney. "The Design Building represents many 'firsts' – including the first mass-timber building on the East Coast, first cross-laminated timber (CLT) building in Massachusetts, and first composite CLT-concrete building in Massachusetts."
SGH served as the engineer of record for the Design Building.
View All Events