News
October 30, 2018
NCSEA Honors Ron Hamburger and SGH Project Bahá'í Temple at Structural Engineering Summit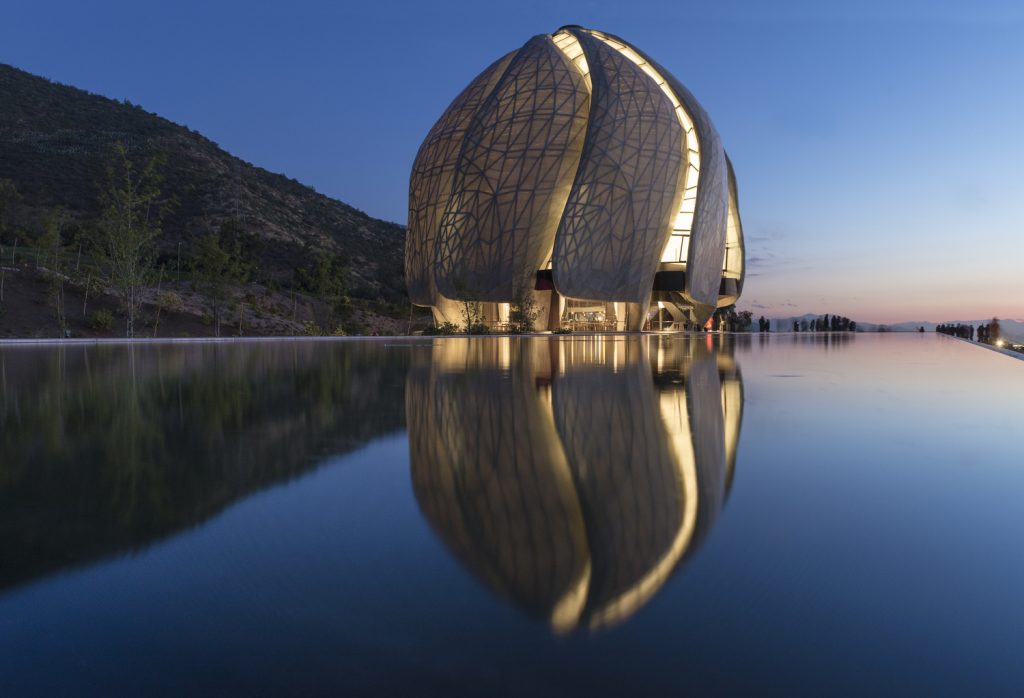 Simpson Gumpertz & Heger (SGH) had a strong presence at the National Council of Structural Engineers Associations (NCSEA) annual Structural Engineering Summit in Chicago, IL, 24-26 October 2018. SGH Senior Principal Ron Hamburger received the Susan M. Frey NCSEA Educator Award; the Bahá'í Temple of South America was awarded Outstanding Project in the "New Buildings $20 Million to $100 Million" category; and several SGH employees presented as part of the summit.
Educator Award: Ron Hamburger
At the awards gala, SGH Senior Principal Ron Hamburger received the Susan M. Frey NCSEA Educator Award, which recognizes "an individual who has a genuine interest in, and extraordinary talent for, effective instruction for practicing structural engineers."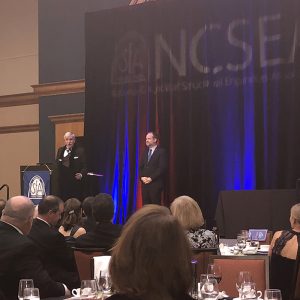 Ron is an internationally recognized expert in earthquake-resistant design and structural performance evaluation, and is widely recognized in the structural engineering community for his leadership in performance-based design. He is a dedicated teacher and has lectured at the University of California at Berkeley, the University of California at Los Angeles, Stanford University, and numerous other academic institutions. He is a past president of NCSEA and has received several awards from the organization, including the 2007 NCSEA Service Award for his commitment to the profession and the 2006 James Delahay Award for his contributions to developing building codes and standards.
"It is an honor to receive this award from NCSEA, an outstanding organization that truly represents the interests and concerns of practicing structural engineers," said Ron. "One of NCSEA's main contributions is providing engineers meaningful opportunities for continuous learning and improvement, and I am thankful for this award and for having had the opportunity, throughout my career, to share my knowledge with others and help improve the profession."
Excellence in Structural Engineering Award: Bahá'í Temple of South America
SGH's Bahá'í Temple of South America received the Outstanding Project award as part of NCSEA's Excellence in Structural Engineering Awards program, recognizing it as the top entry in the "New Buildings $20 Million to $100 Million" category. "We are truly thankful to receive this honor from our structural engineering peers," said SGH Principal Frank Kan, who accepted the award. "This project posed several challenges that required not only structural expertise, but also ingenuity in enclosure and materials design."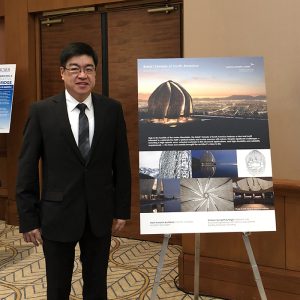 Working with Hariri Pontarini Architects, SGH helped to create this "temple of light" in Santiago, Chile. The temple features nine wing-shaped, translucent petals that meet in a central oculus, allowing visitors to stand in the middle of the space and look up as if gazing through a canopy of trees to the heavens. The petals are clad with an innovative form of cast glass on the exterior surfaces and marble on interior surfaces, which let in the sun during the day and glow serenely in the evening. Located in the foothills of the Andes Mountains, the structure also rests on friction pendulum bearings that protect it from earthquakes in this highly active seismic zone. Team members include Halcrow Engineering, Patricio Bertholet, and Josef Gartner GmbH.
Summit Presentations
Staff members from our Chicago office participated in technical sessions during the Structural Engineering Summit.
On Thursday, 25 October, SGH Principals Matthew Johnson and Terrence McDonnell presented "Chicago Project Highlights – Chicago Riverwalk and Apple Store," highlighting the technical challenges posed by these efforts to enliven the city's second shoreline.
On Friday, 26 October, SGH Senior Project Manager Jared Brewe presented "PCI Design Handbook – 8th Edition Content & Updates," offering information for those working in precast and prestressed construction.
View All Events