Publication
Amenity roof design challenges: Coordinating waterproofing and drainage with luxury features
April 17, 2019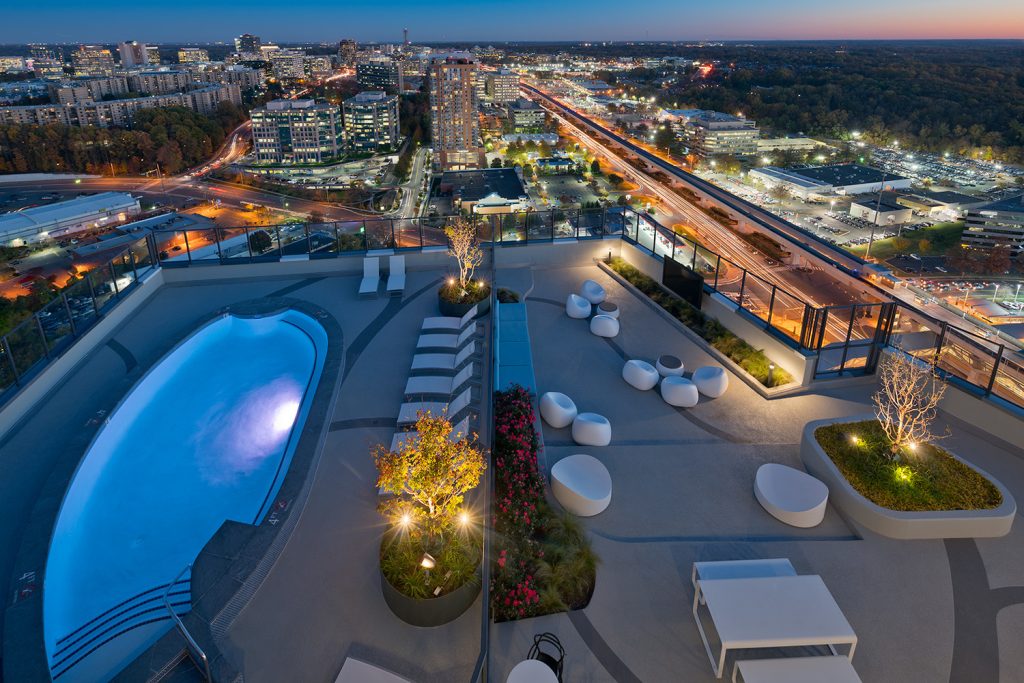 Imagine this nightmare scenario for a design professional. Just after the construction of a sleek rooftop amenity space, the building management reports widespread leaks into the structure's upper floor, where multimillion-dollar penthouse residential units are about to be occupied. Then the question arises: Did the project design drawings and specifications sufficiently address potential amenity roofing challenges?
Rooftop amenity spaces have become common selling points of luxurious multifamily, office, and hotel buildings in competitive real estate markets. These inviting spaces are frequently included in new construction, but are also gaining popularity during retrofits of existing roof spaces. Certain amenities, such as water features, swimming pools, playgrounds, outdoor kitchens, and elaborate landscaping, can add value to a building from a variety of perspectives, including the addition of usable square footage and generation of premium lease rates.
These amenities, however, carry many inherent waterproofing and associated drainage complexities that significantly exceed those encountered in conventional low-slope roofing design and construction. Without a coordinated design among all relevant parties, coupled with carefully sequenced construction operations, rooftop amenity spaces can plague project stakeholders and property managers with leakage and water management problems that are formidable to address once the building is in service. At times, these spaces can inadvertently commit the building owner to a waterproofing/drainage maintenance program requiring unintended confined space procedures, or worse yet, demolition, to resolve.
Publisher
Construction Specifier