Webinar
Cutting Carbon: Structural Steel and Concrete (Series Part 3)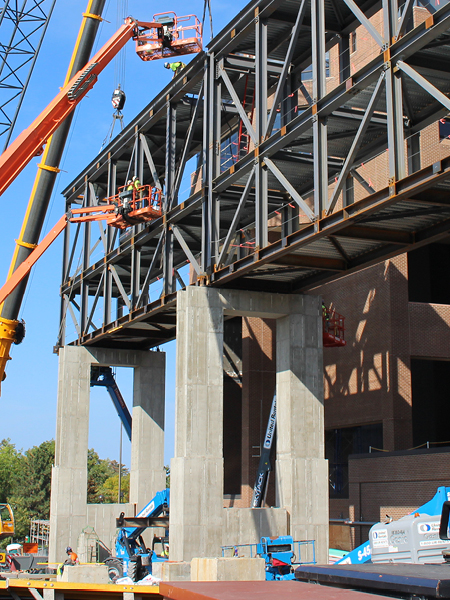 The presence of embodied carbon in building projects has emerged as a pivotal topic for architects, engineers, builders, and policymakers. It is critical to understand the environmental footprint of construction materials and identify novel solutions that will shape a greener, more resilient future. When using structural materials like steel and concrete, engineers need to consider the design, procurement, and potential reuse of these components to understand the overall carbon impact of their project.
In the third session of our "Cutting Carbon" webinar series, we will explore the embodied carbon of two widely used structural materials—steel and concrete—and discuss how the structural engineering industry has responded to the call for sustainability. We will also review the current state of practice for using steel and concrete and share innovative techniques and best practices that can significantly mitigate embodied carbon on projects.
LEARNING OBJECTIVES
After attending this webinar, participants will be able to:
Understand the concept of embodied carbon and its significance in the context of sustainable construction.
Discuss how design and procurement decisions for structural materials impact the embodied carbon of projects.
Identify key factors influencing the embodied carbon of steel and concrete, enabling informed material selection in construction projects.
Explore innovative strategies and best practices to minimize the embodied carbon of structural materials and contribute to a more sustainable built environment.
ABOUT THE SERIES
Cutting Carbon: Embodied Carbon Discussions for Sustainable Buildings 
As global temperatures increase, so do discussions about reducing the environmental impact of building projects. For decades, the industry has focused on lowering operational carbon in buildings by decreasing energy usage. More recently, we now recognize the importance of reducing the embodied carbon in our projects caused by extracting, fabricating, transporting, installing, maintaining, and disposing of building materials and raw material components. Complicating matters, balancing operational and embodied carbon at the same time can lead to conflicting priorities and challenging discussions about retrofitting existing buildings versus designing new and efficient ones.  
In this four-part webinar series, experts from Simpson Gumpertz & Heger will explore these topics from varying angles, including overall sustainability concerns, building enclosure system design, and structural material considerations.  
Join us for the rest of the series:
Tuesday, October 3: Embodied Carbon 101 (Part 1), presented by Julia Hogroian and Andrea Bono
Tuesday, October 10: Facades, Glazing, and Roofing (Part 2), presented by Anna Burhoe, John Jackson, and Travis St. Louis
Tuesday, October 24: Fireproofing and Wood Structures (Part 4), presented by Kevin Black, Michael Richard, and Mark Webster
Participants will earn 1.0 AIA CES Learning Unit (LU/HSW) for attending the live webinar. Registration is free. Please note that space is limited – email events@sgh.com to join our waitlist if the session is closed when you register. 
View All Events