Webinar
Adaptive Engineering: Addressing Resilience for an Urban Bus Facility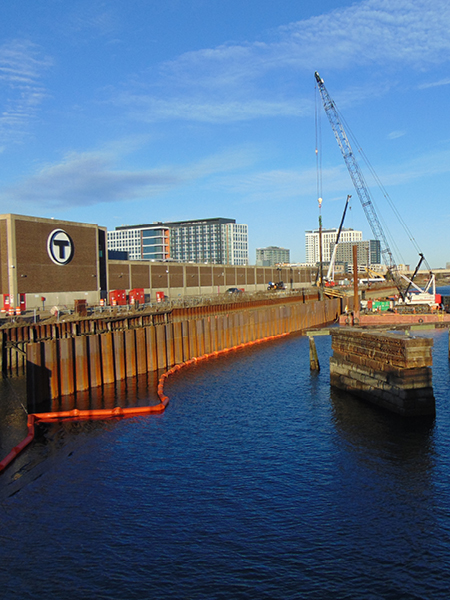 In urban waterfront facilities, owners and property managers must provide shoreline protection for current operations while planning to address future hazards caused by climate change and sea level rise. To balance these issues against complicated budget and time constraints, project teams can use an adaptive engineering approach, finding cost-effective solutions to protect properties for their design lives while leaving options for future expansion. A recent example of this approach is the Massachusetts Bay Transportation Authority (MBTA) Charlestown Bus Facility along the Mystic River outside Boston, MA. The critical facility—serving more than 90,000 people daily—underwent an improvement project to address a failing steel sheet pile seawall and pavement and soil erosion issues.
In this webinar, we will explore this case study and share how a multidisciplinary project team investigated the facility and designed new shoreline stabilization and drainage systems for the active site. We will discuss how soft shoreline protection alternatives helped minimize current and future impacts on the riverine environment and review where these alternatives can be reliably implemented on future projects.
LEARNING OBJECTIVES
After attending this webinar, participants will be able to:
Understand the importance of investigating site vulnerability and identifying a client's primary resilience goals before choosing a final design strategy.
Identify flood mitigation strategies to consider when stabilizing a waterfront site for rain events and tidal overtopping.
Discuss the benefits of incorporating low maintenance approaches to the design of shoreline stability.
Recognize the importance of using a team-oriented approach to solve complex construction issues.
Participants will earn 1.0 AIA CES Learning Unit (LU/HSW) for attending the live webinar. Registration is free. Please note that space is limited – email events@sgh.com to join our waitlist if the session is closed when you register. 
View All Events