Blog
Turning a Corner …
November 1, 2017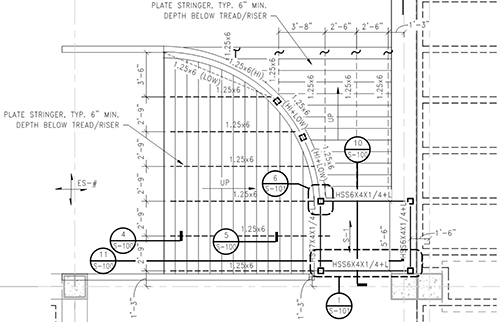 While the new stair connecting the first-floor lobby with the second-floor engagement zone might be the most visible of the structural insertions, there are actually a number of cleverly disguised structural modifications that helped materialize Johnston|Marklee's smart interior renovations to the Chicago Museum of Contemporary Art.
Our work included an infill of a two-story space at the east facade to create the second-floor engagement zone and a new, third-floor education and meeting space. The depth constrictions were such that we had to elevate the steel up into the concrete slab while carving out substantial portions of the exposed steel for HVAC to pass through.
The work required a highly choreographed dance between MEP/FP, structure, and architecture to achieve the floor framing in a very tightly constricted space.
Additional work included structural framing to raise floors for an expanded kitchen, modifications to the building's lateral load resisting system to allow new openings in existing reinforced concrete shear walls, and steel framing to add new rooftop mechanical units supporting the new spaces. We also consulted on the aluminum entries and the facade and related back-up structure to support new signage.
… and of course, there is the feature stair. Stairs are always a fun exercise for a structural engineer. Not just because structure is such an integral part of the stair, but because vibration and acceleration (the human perception of a stair's performance), combined with the necessity for almost artistic detailing, are critical aspects of successful design.
Both Metropolis and the Chicago Tribune covered the project better than I could; I hope you'll enjoy their summaries and project photographs …
The success of the project is due to many, including Harley Ellis Devereaux, ESD, Norcon, and CBRE.